International
Viking Quality is Recognized Around the World
Similar to its extensive domestic dealer network, Viking Yachts also has experienced representatives throughout Europe, the Caribbean, Central and South America, Asia, New Zealand and the Middle East who proudly deliver and service Viking product.

Each Viking sold to an international customer is built exclusively to his or her specifications and needs for the waters where the boat will be used. This begins back at the factory in New Jersey when the dealer representative and customer meet with Viking's international sales team, engineers and production managers. Viking's experienced team can provide valuable consultation in engine and equipment selection, including appliances, electronics and entertainment systems. All international boats can be built to the requirements of the specific region and meet all CE specifications for safety to satisfy various import rules and regulations. Electrical systems will feature 220v/50 cycle service commonly used beyond the shores of the United States, and Viking is equipped at the factory to run and thoroughly test every system before the boat is delivered. Additionally, Viking's electrical engineering department can add frequency converters so all of the yacht's systems will also work in the United States on 120v/60 cycles. This is important because many international owners will want to use their Viking in the United States to experience our excellent fishing and cruising grounds before shipping the boat to its overseas home. This also serves as a most valuable shakedown period for the boat and its owner, and breeds familiarity with the numerous onboard systems. Viking also maintains two modern service yards in South Florida near major shipping ports. These yards are well equipped to make final adjustments or fine tune the yacht before it leaves for home.

Most importantly for the international customer, Viking's experience allows us to deliver the utmost satisfaction to the owner. Thus, if requirements call for additional staterooms for the owner's party, private accessed crew quarters, safety or entertainment options all can be addressed and handled with relative ease at the factory while the boat is under construction. Our mission is to deliver your new Viking turnkey ready and our worldwide support ensures you never go to sea alone aboard a Viking, but rather with over half a century of boat building experience and the skilled talents of Viking trained shipwrights.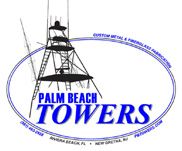 Palm Beach Towers
Palm Beach Towers is the leading source for superb quality, design and engineering of aluminum tuna towers used aboard Viking Yachts and other fine quality boats. In addition, Palm Beach Towers produces fiberglass hardtops, rod lockers and electronic boxes and other custom aluminum and fiberglass accessories. With locations in New Jersey and Florida staffed with skilled welders and installers, Palm Beach Towers has the reputation to top all others.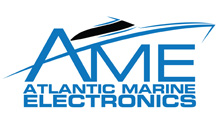 Atlantic Marine Electronics
Atlantic Marine Electronics installs and services navigation, communication and entertainment systems. Whether your need is a single helm station package, or a multiple station layout, along with entertainment systems throughout the yacht, Atlantic Marine Electronics can be counted upon to complete your job on time and on budget. With locations in New Jersey and both Florida coasts, sales, operator training and service are only a phone call away.

Viking Yachting Center
The Viking Yachting Center in New Gretna, New Jersey, is a stone's throw from the Viking Yacht manufacturing facility. The full service marina with 250 slips for boats up to 55 feet, also features transient dockage, fuel, a pool, barbeque and picnic facilities. A full-time service department can provide expert fiberglass repairs, painting, bottom stripping and has two Travelifts for maintenance and seasonal haul outs. The Yachting Center is also home to waterfront Breezes Bar and Grill and Valhalla Boat Sales which specializes in new Contender as well as brokerage sales.

Viking Yacht Service Center
The Viking Yacht Service Center in Riviera Beach, Florida, is on the Intracoastal Waterway and conveniently located just minutes from the Palm Beach Inlet. With two service yards staffed by Viking trained technicians, it provides expert warranty work, as well as all service needs, full paint services, custom woodwork and air conditioning packages, cockpit mezzanine retrofits and is an authorized Seakeeper installation center. Between the two facilities there are 38 deepwater slips, a concrete floating dock, two 150-ton Travelifts and a 125-foot by 150-foot building with 50 feet of overhead clearance for tower boats. Atlantic Marine Electronics and Palm Beach Towers also have facilities at this location.

Valhalla Boat Sales
Valhalla Boat Sales is conveniently located at the Viking Yachting Center in Southern Ocean County on the Bass River next to the Garden State Parkway (N exit #50, S exit #52) in New Gretna, New Jersey. Viking Yachting Center is a 250-slip, protected, deep-water marina that has all the capabilities of a full-service marina with spring commissioning, fall winterizations (including winter dry-storage), Travelift capabilities up to 70 tons, and forklift services.
Copyright 2023 Viking Yacht Company All Rights Reserved.